There's an interesting discussion on SlashDot asking the question of whether we collective programmers should drop the old "80 column" standard that's still so prevalent and go with some larger number, say 132, or, possibly something even bigger.
With the new widescreen displays, this would almost seem to make perfect sense.
But I think I'd side with the majority of posters that 80 columns is more than enough in most situations. Besides that, there are very good reasons that newspapers and magazines don't print articles the full width of the page, but instead create columns. The eye just has a hard time sucking up that much stuff .
In the typical programming book I have, I counted an average of about 74 chars per line (proportional, so the number could vary, though not by much). In the paper back books I checked, I see about 54 chars per line. These are single column books.
80 would seem just about right. Long enough to deal with the typical indentation of a programming language, but short enough to keep you from getting lost on the line.
Besides, other than those lines with long tables or strings of text, why would you create a very long line of code? C is pretty notorious for allowing such nonsense with it's ? operator and inline assignments, but there's very few that would argue those things make the code more readable. VB has it's ":" statement separator, but there are very few instances where I've seen it put to particularly good use.
Convention generally holds that you want to stick to one statement per line. And typical statements should be far less than 80 chars long.
On a related note, I have a few other questions to throw out
How many spaces should a tab comprise?
Is it better to program black on white or white on black?
Do color coded syntax highlighting editors actually help or just distract?
Should web pages go columnar when the chars per line exceed some number (for instance, browsing full screen on a widescreen monitor)?
For me, it's:
3 (2 is too few to be visually distinct, and 4+ takes up too much line space),
White on Black (with a white background, there's just too much light coming at me. It's almost blinding to run an editor full screen on a 24″ widescreen with a white background.
Not much, although I do tend to color comments in a dimmer color than the rest of the code. Everything else I tend to leave as white text, unless it's a very specific file format. For instance, I have coloring rules for INI files and XML files to highlight the sections, keynames, and element tags.
Up in the air on this one. On slashdot, maximized, I count about 230 chars per line on my widescreen monitor. They run as a single column and just stretch it out to accommodate the browser. Many news pages simply limit the max width of the page to somewhere around 1024 pixels or so. Here's a typical MSN page maximized on my system: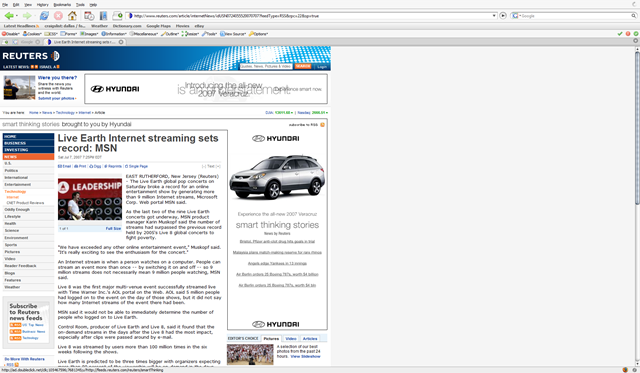 That seems like a waste to me.