I've done a number of installs over the years (somehow, I seem to always end up with the installation project for whatever product I'm working on/with). It started way back when with a home grown solution, then on to a few minor products I can't even recall now, then to Wise Installation System (back before Wise spoke MSI), then the little MSI setup project in Visual Studio, and eventually to InstallShield (oh how I miss Wise!).
MSI files are nice. They're fairly well supported, powerful, capable.
But they can be god-awful difficult to get right sometimes.
And often, when things get tough, it's often handy to be able to snoop directly into the MSI itself. Microsoft provides a tool called ORCA to do just that.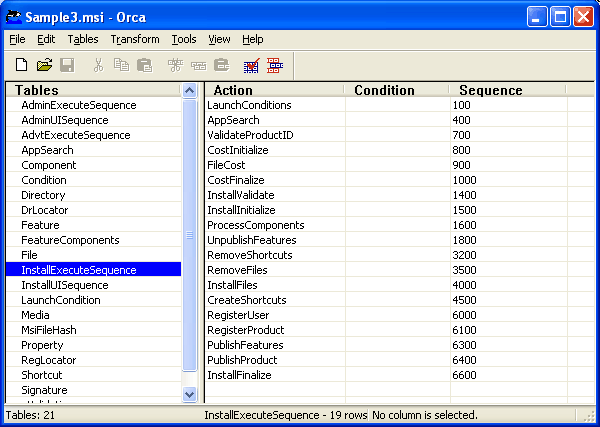 It's decent. But, you can only get it via the SDK, which is a pretty hefty install. And it's not great.
But then I happened upon a nifty little tool from the guys at Pantary.com, SuperOrca.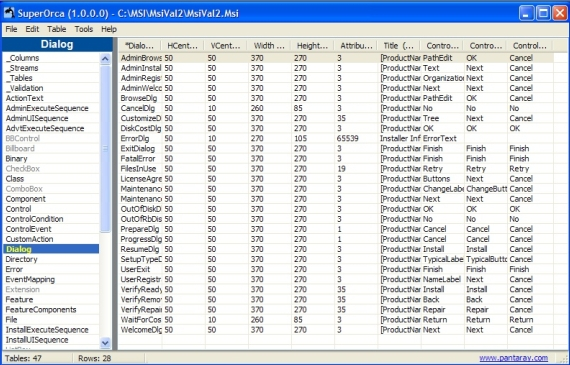 It's a tiny download and fast install. It's lightweight, but it's got all the Orca goodness and then some, like an MSI compare function, and a nice search all function.
Now, InstallShield, and I'm guessing Wise also at this point, has a similar "raw MSI" mode, but, if you don't have the scratch for those apps, SuperOrca might just be the ticket to shedding some light on your next vexing MSI problem.