I've been known to make a few spelling mistakes in code (retrieve vs retreive caused me no end of pain at one point, long, long ago), and any programmer knows that it can sometimes be tricky to get the grammar right for a particular dialog, especially when a checked checkbox causes something to not happen<g>. I usually set up a special priority (1000 in a 1-10 system) for spelling and grammar mistake bugs in whatever bug tracking system I'm using, because, let's face, it, few bugs are more embarrassing, both for the programmer and the company, and fewer still can be located and fixed as easily.
But this one surprised me. It's in the IIS7 management console.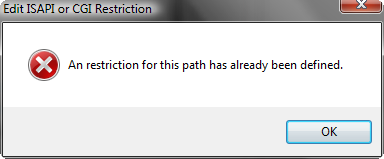 Ah, good to see that even billions of dollars in liquid capital can't solve this problem.