I finally finished out my dream desk. Actually, I finished it out a while back, but just thought about posting here. Maybe it'll inspire other cabinetry-hackers like myself.
I started with an electrically height-adjustable corner lab bench. Used office supply place, about 100$. This allows the entire desk to lift up to standing height, for those long conference calls where I have to walk around some.
Removed the top. It's now a workbench in a corner of my dad's shop.
Welded up a support frame from an old bed rail. You can see that in a pic of the underside of the finished desk here:
Built up the table top from 3/4″ MDF, oak baseboards, oak 1x4s and green/gold slate tiles. Here's a pic of the MDF base, plus the border and edging. The tiles are set in the center area, about 1/4″ below the surface of the border boards. The notch is for the adjustable keyboard/mouse tray.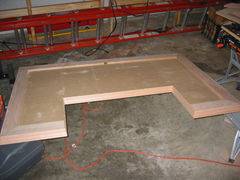 Biscuit joined oak 1x4s with pecan trim to make an adjustable keyboard tray. This was the mockup:
Filled the tile area with about 3 gallons of epoxy (to give it that super wet, super thick, bar countertop look, and to fill it up to the same level as the border). Stained everything a custom red mahogany.
And bolted it all together to get this (I left the keyboard in place to give a sense of scale, ignore the office, it's in its normal state of disarray). The most nerve wracking part of the whole build was having the entire piece completely built, stained, with the tiles glued and mortared in place, and then mixing 3 gallons of epoxy to pour over it. Screw that up and the whole thing would have had to go on the trash.
This shot gives a little better look at the keyboard tray and overall desk, and it shows off the gloss of the epoxy top:
and this one shows off the tiles:
Now, granted, it's not quite as cool as David Barry's Tie Fighter Desk, but it works a little better for video conferences<g>
However, I don't have drawers. Maybe I could do a Jawa Sandcrawler filing cabinet…
Any other cool/practical desk hacking out there?