Ok, yeah, it's probably, um, quaint?, to even have a floppy drive in a Core 2 Duo based machine, but still, that' no excuse for Vista to mysteriously change my floppy drive to Drive B.
You can't fix this with the Drive Management dialog, and I couldn't find any place else to assign a drive letter to the floppy. And there's no jumpers on floppies, so what the hell?
On a whim, I opened up the Device Manager and started looking for any drive letter controls on the floppy devices.
There weren't any.
But then, I started wondering if just uninstalling the drivers and letting "scan for new hardware" do it's thing would work. It usually does for network cards.
So I right-clicked on each and uninstalled the drivers for both the Floppy Drive and Controller: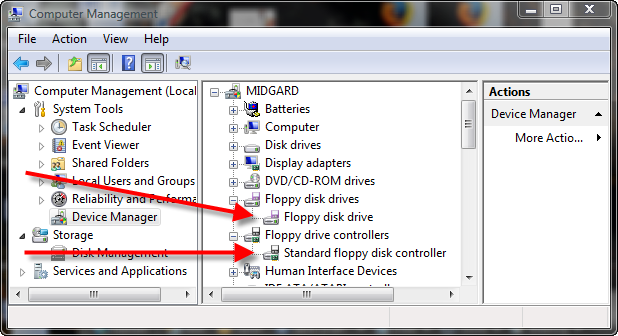 Then right clicked on my computer and chose "Scan for new hardware". In reality, just rebooting would also work.
A few seconds later, I'm back in the land of the whopping 1.4mb Drive A floppy!
Hey, you can get about a second and a half of HD Video on one of those things. Awesome.