Some time ago, I picked up a Draper motorized projection screen off CraigsList. The price was right, the size was good (70″ width, 80″ diagonal 16:9 ratio), the screen was in decent shape (the very bottom was a bit warped, probably from being stored on its side, grrr), and it was motorized, so I could retract it when I wanted the living room to look like a living room.
Several months later, I found a projector and finally mounted the screen. We've been really enjoying it ever since.
But one thing kept bugging me. The screen was originally used for presentations in a lecture hall at Texas A&M, so it was a 4:3 ratio screen. Actually, the reflective screen material wasn't masked at all on the top and bottom, and the screen itself is so long, I'm not exactly sure how tall it is!
Since the very bottom 6″ or so was warped, I'd just set the projector image to just above the bottom of the screen, and, for a 16:9 picture, it ended up about 39″ tall, leaving lots of white screen above the picture as well.
A relative, who's a tad more into home theater than me, had once commented that having the screen black-masked on all 4 sides can dramatically improve the perceived picture quality, because of the increased contrast between the background and the image itself. I'd kind of doubted that until I saw his setup. Big difference!
But, I had a problem. How to black-mask the top and bottom of a vinyl projection screen that's a good 8′ across and weighs a ton, without completely ruining it?
I toyed with several ideas, including constructing a black-velvet drape set (to mask the screen without doing anything at all to it), and rolling a second, black, layer of vinyl, up onto the drum, among others.
I ended up deciding that the best approach was likely just to spray paint the screen black.
But how, and with what?
I called Draper and talked with a very cooperative sales rep that knew exactly what I was wanting to do and understood why. Unfortunately, he said, they don't sell the paint they use to mask the screen, and even if they did, he said, they apply it when the material is off the drum, via something akin to printing press rollers.
Long story short, I found Dupli-Color Vinyl and Fabric Coating (it's not paint, apparently), at the local Pep-Boys auto parts shop for $6.49. A test spray on the back of the screen proved it wouldn't melt the thin vinyl (a really BIG concern for me!). Plus, since it's designed for vinyl, it remains flexible and won't crack up when I roll the screen up and down like a normal paint would. But now the problem was how to mask it off.
I tried masking tape but it was so sticky, when I pulled it off, it puckered the screen material where it was stuck. You can still see the effect even now. That wasn't going to work.
A trip to Home Depot and I had several varieties of low tack painter's tape, but, alas, all were far too sticky as well.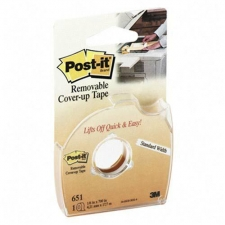 Several months passed and I was in a FedEx Kinko's when I came across this. That's right, PostIt notes as a tape! Who knew? I picked up a roll and sure enough, it had just enough tack to stick, but not enough to mess up the screen when I pulled it off.
A few hours of masking and spraying later, and I ended up here (the screen is set far lower than normal so I could mask out the very top portion, normally it's raised about a foot and a half):
Be sure to mask everything and open windows because the spray goes everywhere and the fumes are terrible.
Also, at least for this particular screen, once I'd sprayed the top portion, it started to wrinkle, bad. I thought I may have actually damaged the screen, but there wasn't much else to do so I just waited. It took about an hour, but eventually, the wrinkles stretched taut again and screen looks great.
Because of the popularity of the widescreen 16:9 format now, it's pretty easy to come across older, 4:3 ratio screens with very attractive prices. Using a few cans of paint, and some careful masking, it's pretty easy to end up with a nice 16:9 screen for a fraction of the cost of a new one.
And the picture?
The improvement was definitely worth the effort!