Years ago, I used SideKick as my PIM, then I ran into Tornado Notes for DOS, which became InfoSelect for DOS, which got ported to Windows 3.1, and which is, in it's latest incarnation, still my PIM of choice.
But during my search, I kept coming back to a very interesting little app called TheBrain.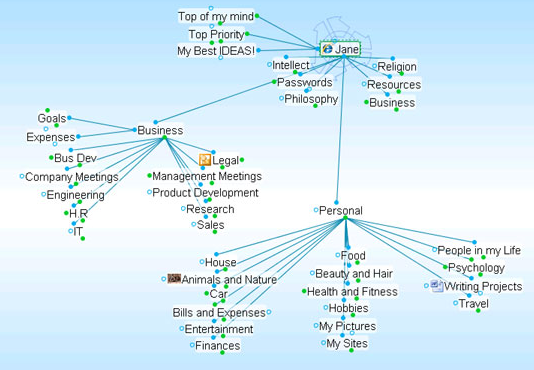 A static picture doesn't do it justice, you need to navigate around in it to get the full effect. It's gaming meets info management if ever I've seen it.
I never could see the benefit of that kind of arrangement for managing your personal information because, for my personal info, I already know how things are connected, I just can't remember the details.
But for navigating information that you don't know much if anything about in the first place… Now that's where this kind of thing can shine.
And back in the present, I just stumbled onto The Visual Thesaurus that does just that. It's a pretty nifty way to explorer around seeing relationships to words visually. I could definitely see children learning lots of new words by navigating through similar words they already know. Plus, its got that "video game" flare that screams Play With Me!
Or how about a visual code navigator, for developers new to a large project. Browsing through a project using that metaphor could be very illuminating, very quickly.
I'm not sure that Visual Thesaurus will actually make it or not. I don't see many people paying even their low $2.95 "subscription" for it. But the idea, and more importantly, where it's been executed, seems like a good one to me.
Can I get that in an OCX?